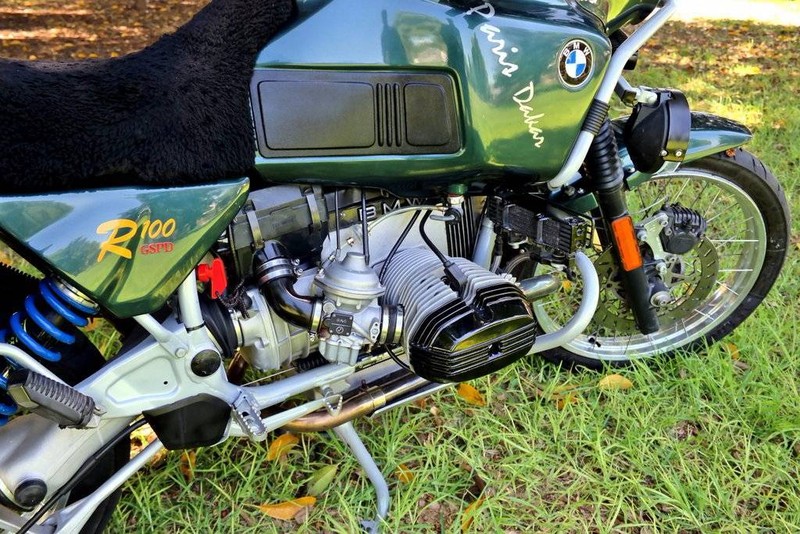 https://www.gumtree.com.au/s-ad/east-victoria-park/motorcycles/bmw-r100gs-paris-dakar-classic/1140543908
Yeah see that one Guy.
Disclaimer: no funds for this bike.
Its a lovely bike.
BUT: Paint scheme...........not Kosher.Green Its my least favorite GSPD colour and its not original.........WHY?
Decals not original why?..........its not like theyre hard to get. The paint and the decals as they are would set off my OCD.
Please customize or alter your bike as you will, but don't do so then refer to it as a "Classic" which it is definitely not
He's listed the bike as Classic............In my view that moniker denotes the last of the R247's off the Spandau line in 1996
They were all Black and had snazzy chrome highlights(mmmmtasty) + back to the peanut Valve covers
BMW R100GSPD Classic: Pictured quietly grazing in its native habitat (Africas Savanah)
Also:Dont like his thermo dip-stick
No Corbins/Sargeant
Personally I also prefer em not to be "Double Plugged"
At nearly 90000KMS getting close to some top end work. Its fine pulling it apart and painting it, also afixing a
"heavy duty frt mudflap

"
...but
I think its clear the previous owner was a chronic fiddler.
Tacho disconnected cause it conflicts with his high powered coils??? wow thats not very well thought out.
Describing the original Brakes as "shit" is perhaps a bit of an overstretch. To
"perfect the handling"
he's fitted some "blah blah" tyres..........wowsers (that probably won't pass the "Pub Test)
I reakon this bloke's had a fair drink of his own Bathwater..........NB:If it's your Bike and your a Club Member I unreservedly withdraw that remark and will buy you a beer and a rubber duck...haha.
Guy, Yesterday I saw a unremarkable, unrestored Honda Bol Dor 900 for $12000.........with that in mind this GSPD is possibly a Bargain. NB:If you are the owner of an unremarkable Honda CB 900 I again apologize unreservedly.
Conclusion: its a great bike at a first glance but a couple of things don't quite add up. You'd need a real close look at it. Having said that theres a lot of crappy examples of these bikes around which are repainted worn out hacks at top Dollar. This one looks far better than that from a distance.
Guy: you already own "The BEAST" that woke Bencubbin..........you dont need this one