Thanks to AutoClassic's OctoberFest Demo Day, I had the opportunity to ride the new 2019 BMW R1250 GS Adventure Exclusive around my normal test ride circuit for half an hour or so.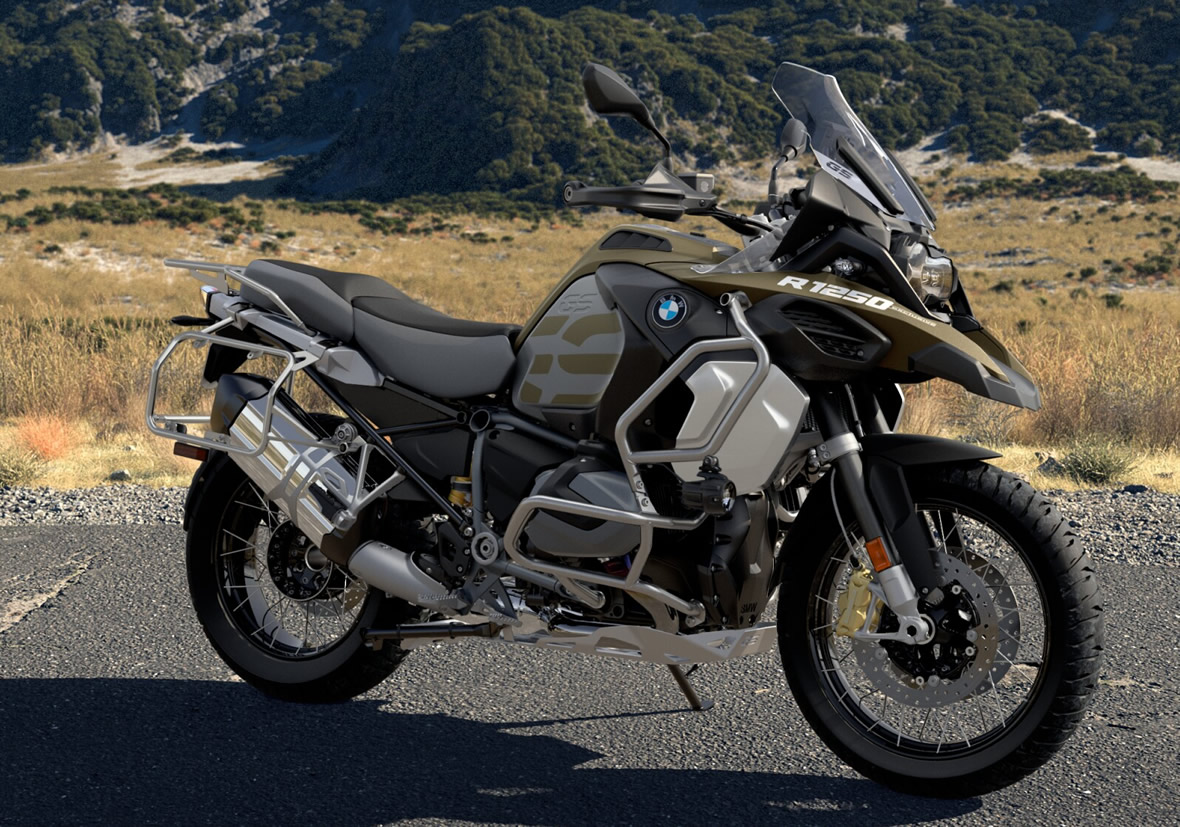 A bit of history... Every year AutoClassic tries this ploy. Get 'em in. Get 'em on bikes. Sell bikes to 'em...
My biggest fear has always been that the ride home on my old girl (2008 GSA) would be a huge let-down.
To date however, the journey home has always been accompanied with satisfying thoughts. The old girl is actually pretty good.
Last year, I demo'ed the 2018 R1200 GSA LC. It did nothing for me. I rode home happy. The 2017 BMW R1200 Rallye X almost pushed me over the line.
If speed limits in this country were a little more grown-up, the BMW R1250 RS would be my ride of choice, but alas....
This year, I'm worried. The 2019 R1250 GSA LC Exclusive is a revelation. It's not the power, which of course it has more of. But everything is 'more powerful' these days.
It's the overall level of refinement everywhere that stands out.
The clutch-less shift is flawless, up and down. I read up on how this should be treated earlier in the week. And following the short instructions to a tee, I found the clutch-less shift to be superb, fast, slow, any rpm... I have a Dupuytren's Contracture on my left hand which in the fullness of time is going to restrict my ability to operate the clutch. The ability to relegate clutch operation to a launch-only function is a huge bonus.
All that is needed now is a 'Neutral' button that will dial in 'Neutral' at stand-still and negate constantly down-shifting while coming to a stop.
When the press releases started coming out circa a year ago, it was mentioned that the idle rpm was lowered 100 rprm. Instantly I thought that the 1250 should drop into 1st gear without that loud, embarassing 'CLUNK', signalling to all and sundry that you had dopily forgotten to pull in the clutch while trying to engage 1st.
And I'm pleased to report that it does indeed engage 1st gear in a much more gentlemanly manner.
The ergos around standing for off-road riding are perfect. For this 5'11" rider, the seat / tank / frame / handlebar positioning and narrowness for standing are, I said it, "perfect".
The low speed fueling is faultless. 1st gear figure-8s are a doddle, even whilst including roadside gutters in your figure-8s.
The cruise control combined with the almost perfect balance of the chassis makes for worry-free hands-free cruising.
I spent some effort trying to detect the ShiftCam 'shift'. Negatory...
The chassis is a lot more responsive on it's feet (wheels), steering-wise, than the previous generation which failed to impress.
Finally, the enormous leap forward in instrumentation, the TFT display, has unsurpassed visual clarity. Visible and clear in direct sunlight.
Six gears seem to be a bit of overkill. There's so much smooth, willing torque from low revs in 6th that you wonder why the other 5 gears are included. Maybe the factory is preparing us for single-speed electric-bikes of the near future.
The whole driveline is incredibly smooth and vibration-free.
The dark bronze colour (oops, Kalamata metallic matt) is more subtle and acceptable than previous incarnations. That's just my view though

. I guess that I'm a titanium and black sort of bloke.
Niggles? Very few...
The seat... while nicely narrow at the front, is quite square on the sides meaning that when your feet are down, it's quite sharp on the thighs. And hard. Still, gotta keep the aftermarket folks in business.
The screen could be a little taller.
I suspect that BMW hasn't changed the bend of the handlebars for a very long time. I've never fitted the shape. I still don't. My wrists are twisted at an uncomfortable angle while seated. I improved this on my 2008 by fitting old K tapered handgrips. This slightly changed the angle of that wrist-to-handlebar relationship. Not a complete solution, but an improvement.
The 6th gear ratio could be much closer to the RT ratios. But this has always been the case with the R1200 GSAs, in my view. The BMW R1200 RT engine in top gear spins around 500 rpm slower and is much more relaxed. This would stop me from constantly reaching for 7th gear. Oh for a BMW R 1150 GS overdrive 6th.
With a taller 6th, the gap from 5th to 6th could be more noticable... negating the need to look at the gear indicator or pull the gear stick up one more time to confirm that you are indeed in 6th. I've ridden 20 km in 5th at times because the difference to top gear is so small. The top gear ratio lets the engine spin at 3,500 rpm at 100 km, identical to my 2008. Should have used a GPS to check speedo accuracy. The 2008 speedo reads about 6 kph fast.
I can't confirm if the 1st gear ratio is lower, ala the old model bikes. But crawling over obstacles is effortless, as mentioned previously.
The wet clutch-feel itself is a little doughy compared to the precision of the older model's dry clutch.
The electronic throttle (ride-by-wire) has a little dull spot right off the edge of the idle transition (tip-out / tip-in) at very low rpms / throttle openings. Engineering-wise, this is very hard to get perfect, especially when the engine is rigid-mounted in the chassis.
The throttle itself is also very fast. It feels like it's pretty close to 1/4 turn. The 2008 GSA feels more like a 1/2 turn, very slow. So the new one gets it's throttle open a lot quicker, hopefully not leading to more fuel usage. This quickness of throttle opening can give the impression that the bike 'feels' faster.
So that wraps up my thoughts on this new 2019 BMW R1250 GSA. Yes, I'd be very happy to own one of these...
$33,000 is a very big number...
3 year global warranty
Unlimited kilometres
3 year Road Side Assist in Australia only.
Thanks to AutoClassic BMW Motorrad for the well organised and catered morning.
Thanks to Jonas for your patience and answering all my questions.
Now if I could just pay a reasonable price in Australia, pick-up in Germany and ride around Europe then ship home to Australia................................