Or munted at Muntadgin

http://forum.bmwmccwa.asn.au/viewtopic.php?f=3&t=3178
A sad story of BMW R1200 RTP drive shafts (Up to model year 2007).
One perfect day, sun shining on that perfect Western Australian day, no wind, flat wide open country, wheat fields just harvested to ankle height... just the right mix of ingredients to exercise the 'Go handle'

However, all the goodness in the world combined, does not necessarily guarantee a pleasing outcome...
Or for all those coming home from the Munty Pub weekend and noticed a white RT on the back of a truck...
First note: When the glorious sound of speed and foreign loud unfamiliar noises suddenly combine in concert, don't reach for the volume knob to turn up the music!
Stop, and look around your machine. If the noise seems to be coming from the rear, poke around the rubber gaiters on the swing arm.
If you notice that one or the other of said gaiters is mysteriously damaged, STOP. Do not keep riding.
Drive shaft universal joint as viewed through the rear gaiter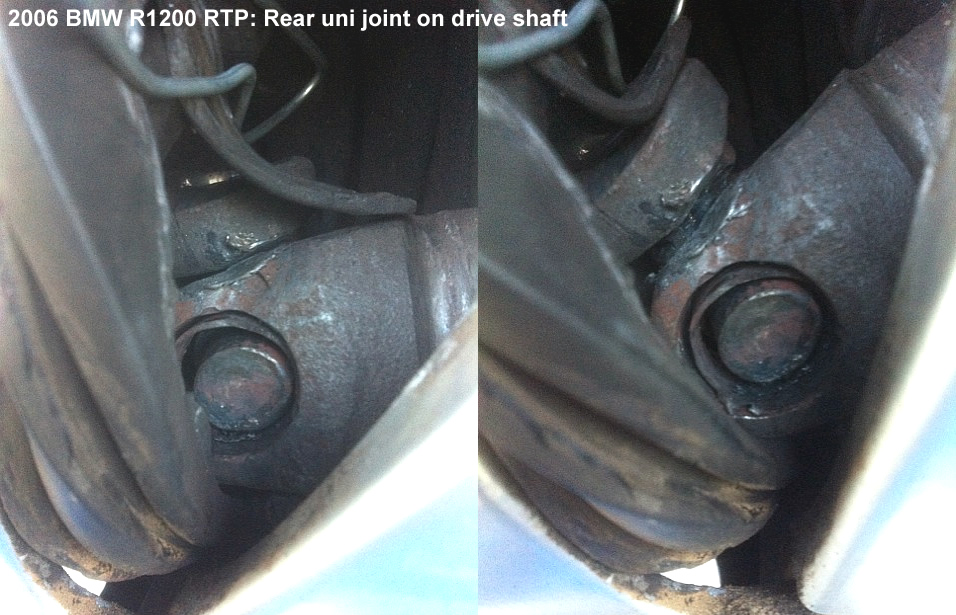 Get on the phone, hitch a ride, put the bike on a trailer/truck. Do not ride it...
Or in the words of that famous robot, "Danger Will Robinson".
Once at home, in a safe warm location, disconnect the final drive from the swing-arm/drive shaft.
If what you see looks like this... Sit down and mumble a prayer or two to who-ever you think is looking after you

You're still alive, so someone is...
Drive shaft universal joint as viewed with final drive disconnected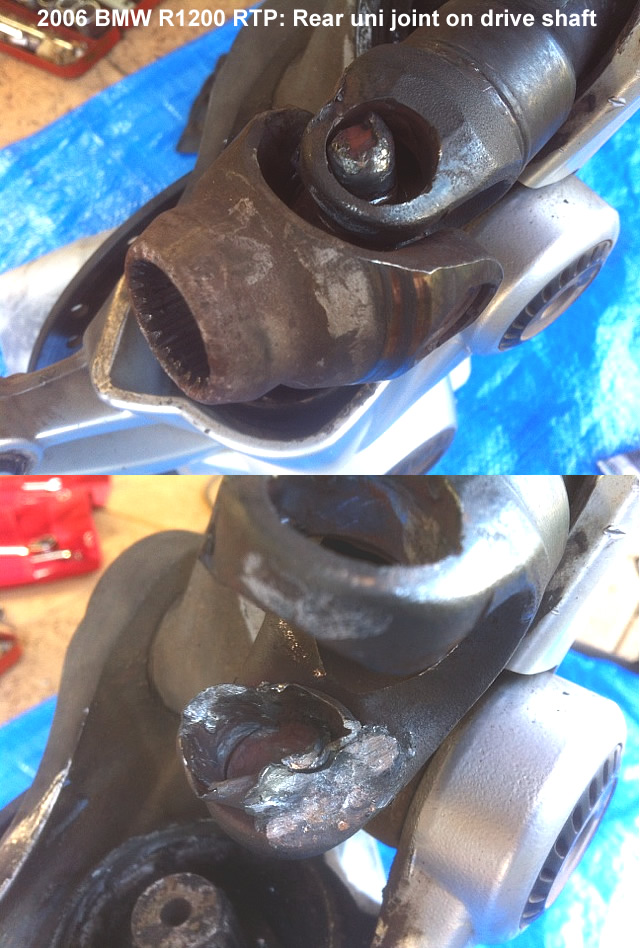 Drive shaft as viewed disconnected from the gear box and partially withdrawn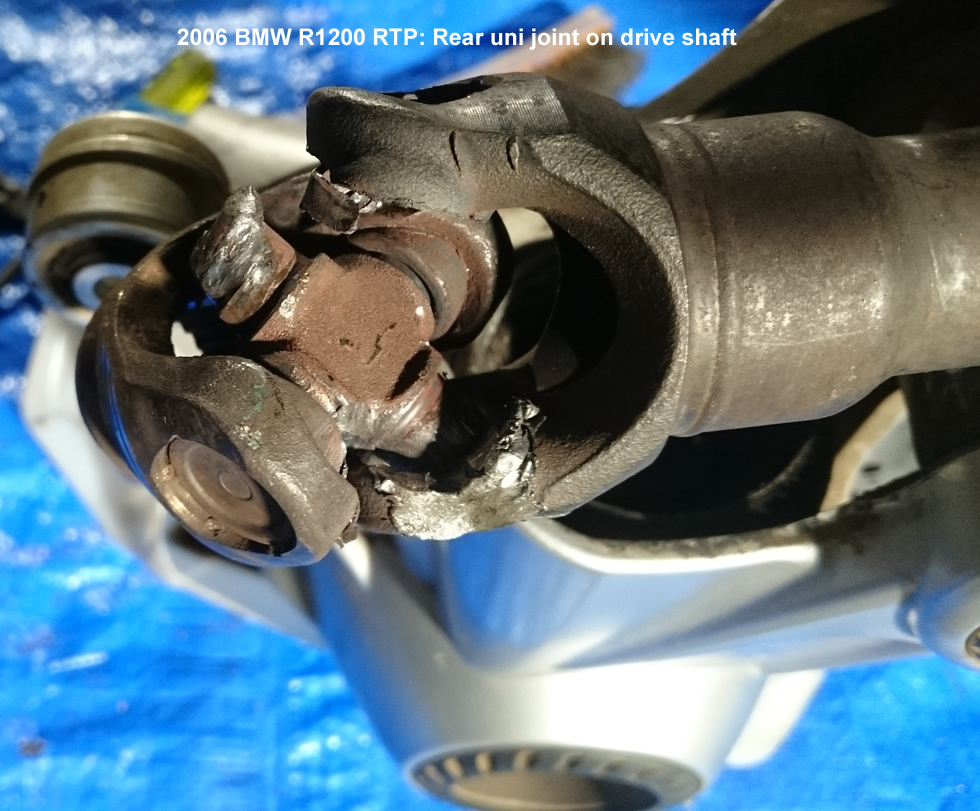 Discovering that the blasted drive shaft won't come out of the paralever arm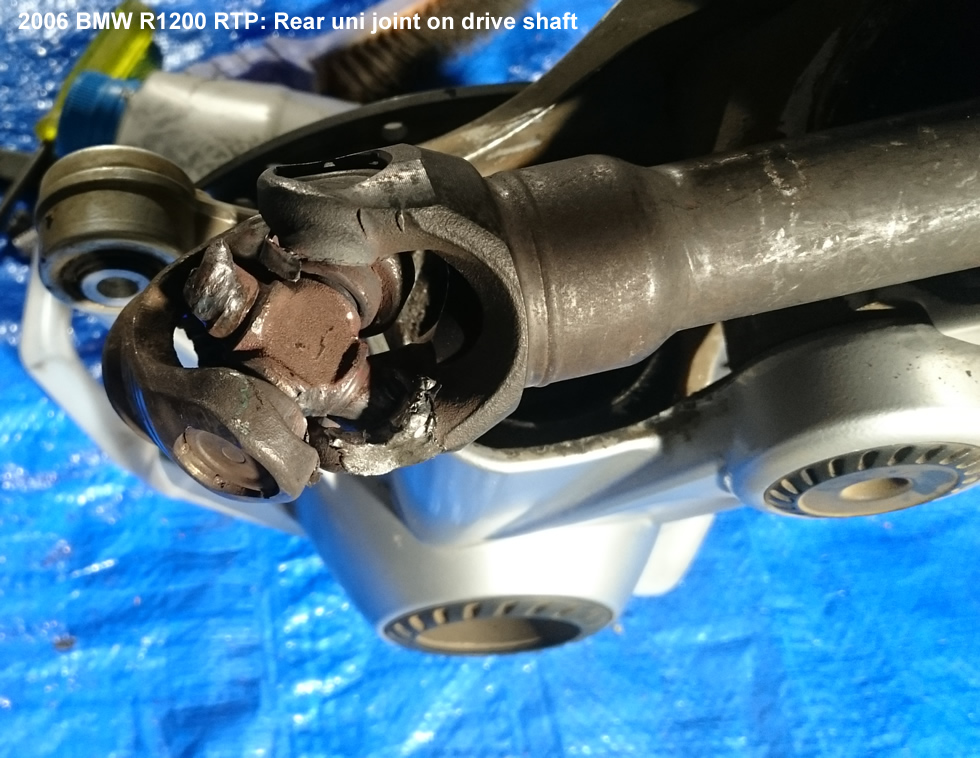 Right now you are thinking? Can't pull out the drive shaft? It's bent; the paralever arm might be damaged ; big $$$$$$$$$$$$...