After promising myself a quiet long weekend, it was all to turn out rather differently.
There was an enthusiastic turn-out at the Tuning Day. Lots of the usual suspects (air-heads) requiring the usual tweaking.
A couple of oil heads wanting a little de-bugging... one flooding Noel's shed with petrol fumes, but no luck on displaying any cruise control errors on the GS-911.
A simple service light re-set bombed as the seat on the R9T refused to budge... Interesting to see where that story goes...
Planned to sit out the heat at home when an offer too good to refuse arose at brekky on Sunday... Fancy a drive to the country to look over a couple of farms in the comfort of an air-conditioned 4WD. Get a little practice with the drone... Return home in comfort in another air-conditioned car! Sounded great!
It's hot and dry out there at this time! Hovered around 37 degC.
Did the rounds of Bulyee, Bullering, Yealering, Kweda, Kondinin, Cundinin, Dundinin, and plain ol' Dumbleyung...
Had an early start on Monday morning. Decided to ride as it was pretty cool and pleasant.
The much-needed drone practice went well enough. That eagle seemed a little too interested for my liking though... Did a flip on landing but didn't break anything.
Enjoyed swapping back and forth between the HD Road King and the BMW R1200 GS (oil head). Good to ride other bikes.
Suspension wise, these machines are light years apart... If HD could fix the suspension on the Road King and aftermarket manufacturers could curtail the noise, it'd be a pretty good ride!
Surprisingly, the Road King used the same amount of fuel as the GS. Pretty impressive for such a BIG machine.
Parked up in the shade with the Road King and comfy ol' GS...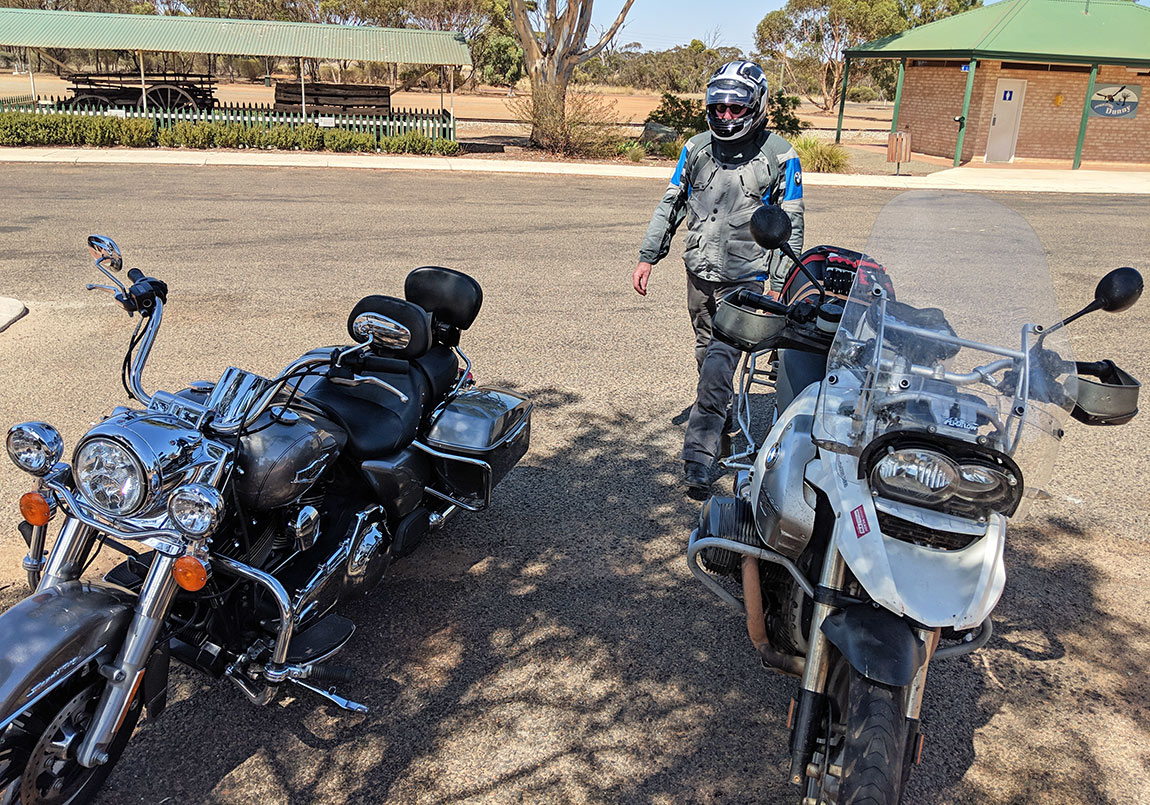 As usual, the food offering in country pubs was superb. Easily out-doing any of your city Jamie Oliver types servings and great value to boot.
Stumpy's Roadhouse had awesome sausage rolls. I went back and bought another...
The pies are apparently very good. That's probably true. JD rated 'em pretty highly...
My old adage is, 'If they can't make a tasty sausage roll, I'm not wasting money on trying their pies!'